Park Spark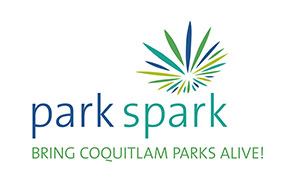 Park Spark provides an opportunity to have fun and gain meaningful experiences while enhancing Coquitlam's parks. We offer a variety of opportunities for people to lend their expertise or experiences to connect with our parks.
Opportunities
Park Spark Pop-up (Family) in June
Looking for things to do outside, ways to stay active or just want to have fun? Join the Park Spark team as we pop up at local parks. Drop in to enjoy fun activities, games and hang out the Park Spark team. Locations: Brookmere Park, Glen Park by ball diamond, Mundy Park by lacrosse box, Galloway Park, High Street -Behind Mall Walmart
Dogwood Garden Plant Sale
The Park Spark team is supporting the Dogwood Garden Club at their annual plant sale on Saturday, June 12. Purchase perennial plants following COVID safety protocols and pre-registered attendance.
*Open the Adult Talks & Workshops Gardening drop down to view location and timeslots to attend. | Register Here
Coquitlam in Bloom 2021
Coquitlam will once again participate in the national Communities in Bloom competition and several activities are planned. Join in on the fun and learn how you can help Coquitlam bloom! Learn more.
Garden Volunteers
Become a Park Spark Garden volunteer. Green thumbs of all ages and abilities are encouraged to get involved, share knowledge, learn new skills and make a difference while enhancing Coquitlam's outdoor parks spaces.
Throughout the growing season, the Park Spark team will be popping up at various Coquitlam park spaces, teaming up with other volunteers to keep our gardens looking their best. Find out when we'll be visiting a park near you. For information on locations and how to become a Park Spark Garden volunteer, please email the Park Spark team.
Coquitlam Spirit
Part of the City's response to the COVID-19 pandemic, CoquitlamSPIRIT provides free activities and resources to help residents stay active, healthy and connected while they practise physical distancing. Click HERE to view our Bloom of the Week and ideas to enjoy the great outdoors!
Inspiration Garden
Located in the southeast corner of Town Centre Park, the Inspiration Garden is dedicated to growing, supporting and connecting gardeners in the community. Learn more HERE.
Litter Clean-ups
Keep our outdoor park spaces SPARKling! Get involved, take ownership and make a difference by joining the Park Spark team to keep Coquitlam parks and trails litter free. Find out when we'll be popping up at a park near you. For information on locations and how to participate in a Park Spark litter clean-up please email the email the Park Spark team.