Inflow and Infiltration
What is inflow and infiltration?
Inflow and infiltration (I&I) is rainwater and groundwater that gets into a home's sanitary sewer pipes through:
holes or cracks caused by damage, age, or tree roots
leaking pipe joints or maintenance hole covers
roof and foundation drains that are improperly connected to a property's sanitary line
This rainwater and groundwater should not be there.
Sanitary sewer pipes are designed to carry a small amount of rainwater and groundwater, but in cases where sanitary sewers are damaged as described, rainwater and groundwater (especially during rainstorms such as an atmospheric river event and melting snow) takes up space that is intended to only handle wastewater from the homes and businesses - this can result in sanitary sewers overflowing into the surrounding environment.
A large portion of I&I comes from private properties with damaged sanitary sewer lines or improperly connected roof and foundation drains, which is the homeowner's responsibility. Some inflow and infiltration happens in municipal and regional sewers and is their responsibility. The graphic below illustrates some of these issues and shows who is responsible for which repair and maintenance.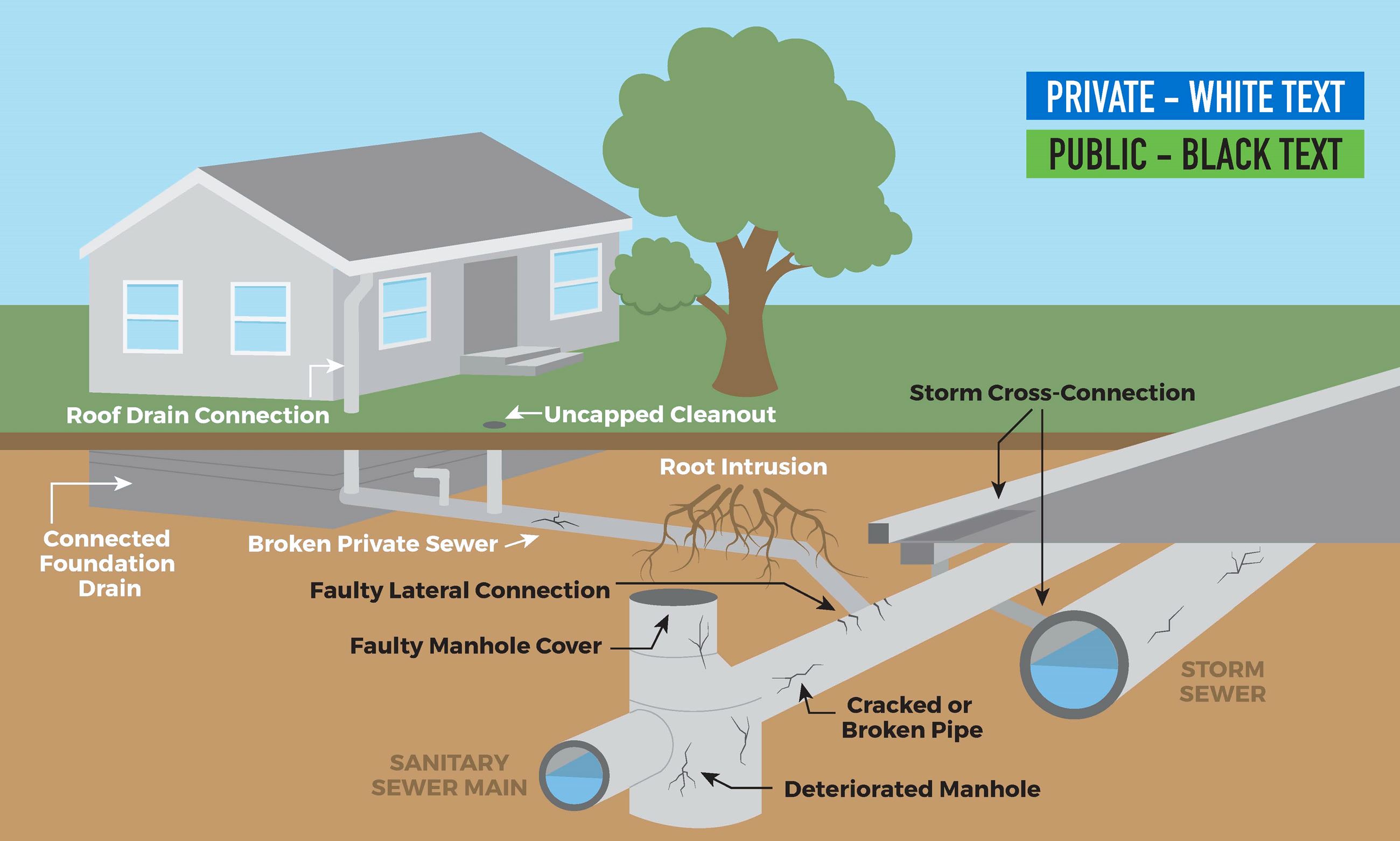 I&I in Coquitlam
Nearly 50% of the sanitary sewer system is privately owned and located on private properties.
Coquitlam inspects the entire municipal sewer system on a 20-year cycle, and spends nearly $1M each year to investigate and address municipal I&I.
Management of I&I is crucial to sewer system performance and requires ongoing collaboration with property owners, as almost half of the sewer system in the Lower Mainland is on private property as the responsibility of the property owners, and is currently not regulated or managed to the same level at the municipal sewer system.
Sanitary Connection Grant Program
Coquitlam's Sanitary Connection Grant Program seeks to support eligible property owners to replace their sanitary laterals by funding 25% of the replacement cost up to $2,000. The first phase of the Sanitary Connection Grant Program will focus on properties fronting a portion of Chapman Avenue within the Stoney Creek catchment.
What You Can Do
You can help reduce I&I from coming from your house by:
Avoid planting trees or shrubs near sewer pipes
Checking that your basement and foundation drains are not connected to your sanitary sewer pipes
Checking that your gutters and outside drains are not connected to your sanitary sewer pipes
Repair defective or broken sewer pipe on your property
Background Information
Maps
Reports to Council
Media