Invasive Species
Invasive plants are non-native plants that were introduced to our environment through seeds, cuttings, garden plants, etc. that spread aggressively and take over the natural environment. They out-compete native plants, including endangered species, and destroy habitat for fish, birds and other wildlife. They can also cause erosion and silt problems in creeks and impact aquatic creatures. Invasive plants are expensive to control and eradicate. Some, like Giant Hogweed, are even dangerous to human health.
Quite simply, they are "Bad Seeds".
Prevent the Spread of Invasive Species
Avoid buying plants promoted as fast spreaders or vigorous self-seeders as they are often invasive.
Contain or remove invasive plants on your property to prevent them from spreading to other properties.
Dispose of invasive plant material in your Green Cart instead of your backyard compost (see below for hogweed disposal requirements).
Never dump garden waste, hanging baskets or anything else into natural areas.

Refer to the Invasive Species Council of BC's

Grow me Instead

Guide and visit the

Native Plant Society of British Columbia's website

to learn about BC's 'most wanted' plants, along with recommended alternatives.

Use caution when ordering plant seeds over the Internet or through catalogues. Introducing foreign seeds are a key way that invasive plants find their way into our community.
Common Invasive Plant Species
Commonly sold as an easy and fast grower that can tolerate shade, English ivy (Hedera helix) smothers vegetation and can eventually kill trees.
English ivy is identified by dull, green, lobed leaves with a thick, waxy coating that stay green all year long. It grows as a small to large woody vine that clings to surfaces such as trees, buildings and rocks.
View the Metro Vancouver Best Management Practices for English and Irish Ivies (PDF).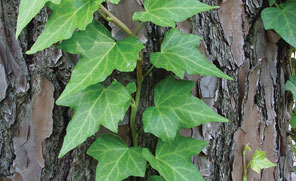 Volunteering Opportunities
Are you interested in becoming a Bad Seed volunteer?
If you have a group interested in organizing an invasive plant pull with the City of Coquitlam, please email the Natural Areas team. If you are an individual looking to join a scheduled invasive plant pull, register with Better Impact and watch for upcoming Bad Seed events.
Help Plant Native Trees and Shrubs
Join the City's Natural Areas team on Sept. 25 and 26 in Hoy Creek Linear Park, from 10 a.m. – 12:30 p.m., and help us restore the forest by planting native species trees and shrubs in an area that used to have invasive plants. Space is limited! Please email the Natural Areas team for more info and to register.
For more volunteer opportunities, contact local community groups: