Career Opportunities
Vision
Sustaining a high quality of life for current and future generations, where people choose to live, learn, work and play.
Mission
To serve the public interest through open, fair and accountable local government with a focus on leadership, innovation and community priorities and strengths.
Corporate Values
Organizational values form the foundation for the City's decision-making framework and relationships with its interestholders, including employees, residents and clients. The City of Coquitlam strives to be an organization recognized for its excellence in City governance and employee, resident and client relations. View our 2020-2023 Strategic Plan (PDF).
As an organization we will:
Be accountable for our actions and decisions
Treat people fairly
Innovate to sustain community quality of life
Be leaders in municipal governance
Work That Matters
Looking for work that is meaningful, reflects your values and supports your professional and life goals? You'll find it at the City of Coquitlam, recognized as one of BC's Top Employers for six years in a row.
Serving a population of more than 150,000, the City of Coquitlam employs more than 2,000 people in a wide variety of jobs, including recreation leaders, technology, trades, customer service, fitness instructors, administration, planners, building officials, bylaw enforcement and other fields.
View Current Opportunities

Apply Online
Application Review
Candidate Assessment
Background Checks
Employment Offer
Onboarding
Apply Online
Applicants need to apply online to posted jobs.
We have created guides to help both internal and external candidates with the application process. If you encounter any difficulty, please contact Human Resources.
Résumés and Cover Letters
The City typically requests a résumé as part of an application process and may also request a cover letter.
Tips:
Many of our job postings are unionized and the minimum qualifications are listed on the job posting. Candidates must clearly demonstrate how they meet the minimum qualifications. We recommend you indicate how you meet these minimum qualifications in your resume.
There are great examples online for how to create

résumés

and cover letters. Be concise and clearly showcase your information in the format you choose (e.g. chronological, combination or functional

résumé

).
If you worked outside Canada, search for information online on how to highlight international or foreign experience in

résumé

s and cover letters. Include the city and country where you worked, and explain how your experience relates to the job you are seeking. Coquitlam values diverse experiences and skillsets.
Application Review
Once we receive your online application, it is reviewed by people. This typically includes the hiring manager and Human Resources. Candidates are assessed based on their qualifications in relation to the job opportunity, and the competitiveness of their application.
Candidates are selected to move forward based on how they meet the minimum qualifications for the position and the competitiveness of their application in the recruitment process and those shortlisted for consideration are contacted by Human Resources.
Human Resources most often contacts short-listed candidates through email. We recommend you check your email inbox and spam folder to ensure you do not miss notifications from the City.
Assessment Stage
Coquitlam's recruitment process typically include two stages of assessment.
Testing
Depending on the position you are applying for an assessment can include: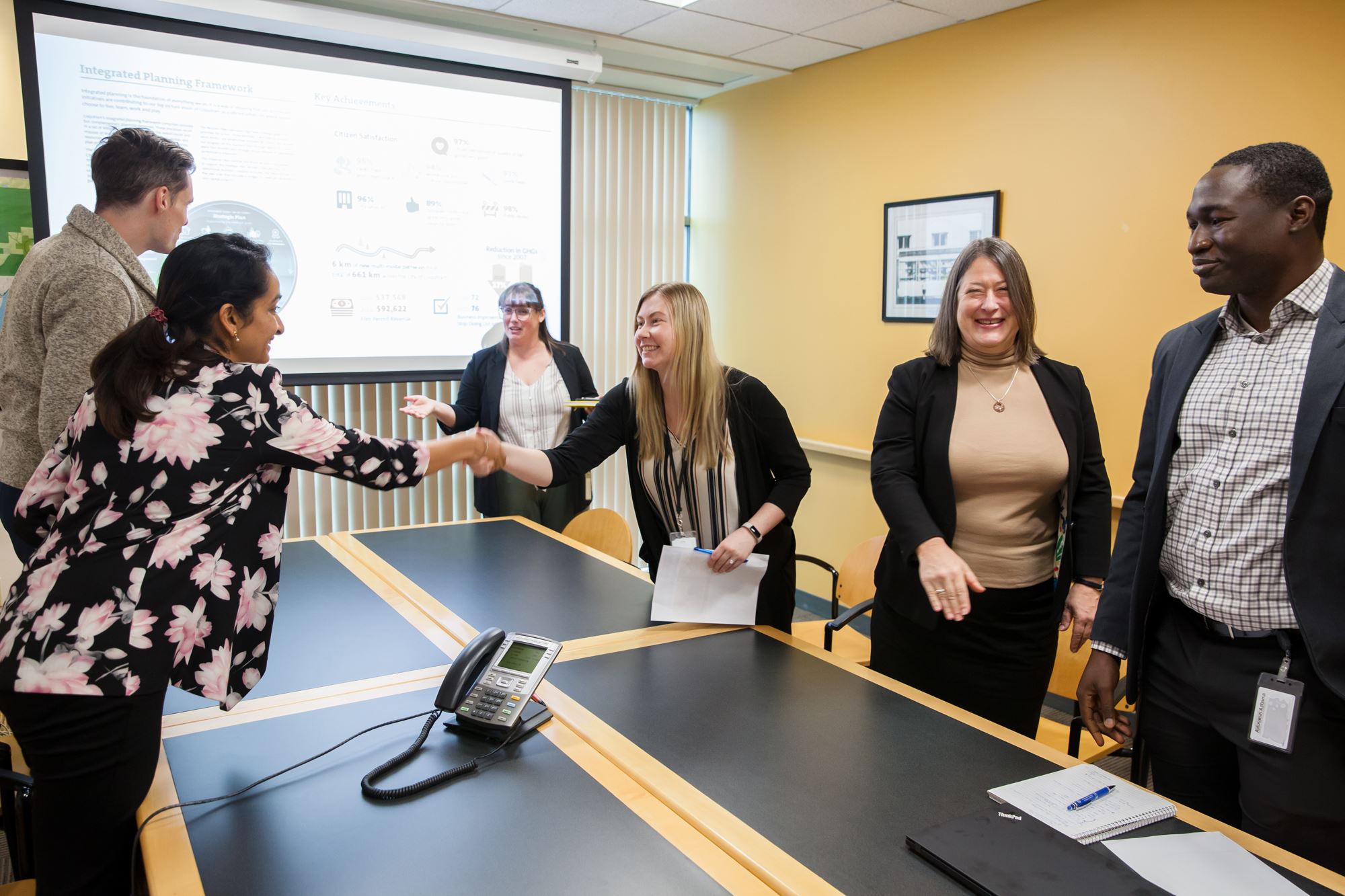 Knowledge-based tests
Practical assessments
Presentations
Written assessments
Behavioural Interviews
The City of Coquitlam uses behavioural competencies to determine if a candidate will be a good fit for the position and our organization. Behavioural questions ask you to describe past situations or challenges you may have faced, and how you handled them.
Examples of behavioural interview questions:
Tell us about a time when you had a disagreement with a colleague over details of a project. How did you deal with this difference in perspectives?
Give an example of when you encountered a problem that didn't have a clear resolution. How did you figure out what needed to be done?
Interviews are typically conducted by the hiring manager with support from a Human Resources representative and, on occasion, other staff members familiar with or involved in the work.
The STAR Method
Job candidates tend to fare better when they use the STAR method to answer behavioural interview questions, and focus specifically on their role and/or impact on the situation.
Situation – Briefly describe the situation you were in. It is good to provide some details to help the interviewer(s) understand context of the situation.
Task – What was the goal, opportunity or challenge you were trying to achieve in the situation?
Action – What were the specific actions

you took

to accomplish the task you were faced with? Try to avoid using words like "we" or "you" in describing the actions; instead focus on "I" statements. It is best use real life examples rather than hypothetical ones. This helps the interviewer(s) understand what your contributions were in the situation.
Result – End your example with the outcome of your actions. This is also your opportunity to tell the interviewers how you made an impact. If it is possible, share data or metrics.
Other useful tips for interviewing:
Research the City of Coquitlam and the department you are interviewing for. The City's website has a lot of very useful information.
Review the job posting to anticipate what types of questions you may be asked.
Do a mock interview with a friend or family member that you trust will give you honest feedback.
During the interview, take time to understand the question being asked. It is okay to ask the interviewer for clarity before proceeding. If you need to, take a few minutes to think about your response prior to answering the question.
It's acceptable to bring notes for reference to help recall details of situations.
Background Checks
As a public body, the City of Coquitlam needs to ensure that its employees and job candidates represent themselves with the highest level of integrity. As one of the last steps in the recruitment process we may conduct background checks for employment purposes. Depending on the role, job candidates may be asked for the following:
Reference checks: We require a minimum of two references with past, direct managers/supervisors. The reference check is to verify the information you shared during the recruitment process. For many candidates, conducting a reference with a current manager can be sensitive and we will work with you on this process.
Security Check: For specified roles we may ask you to complete a Police Information Check. If you are applying for a role with the Coquitlam RCMP, an Enhanced Security Check will be required. Both types of security checks are processed at the Coquitlam RCMP Detachment at no cost to the candidate.
Driving Record: For jobs that involve operating a City vehicle we may ask for a driver's abstract. Candidates can obtain their abstract for free from the ICBC website.
Employment Offer
Congratulations on being offered a role at the City of Coquitlam! If you are the successful candidate, a representative from Human Resources will contact you do discuss the details and next steps. For more information on our benefits, go to the "Investing in Our People" tab on this webpage.
Onboarding
Should you accept our offer of employment Human Resources will email you an offer letter that sets out the terms of your employment with the City, along with other information and forms for you to complete prior to your first day. The City also provides new employees access to an Onboarding resource portal, orientation sessions and other training to support your success in your new role.
Regrets
As one of B.C.'s Top Employers, Coquitlam often attracts multiple highly-competent candidates to job opportunities with the City and, as a result, the recruitment process can take time. We understand that it is important that you are notified on a hiring decision. Every candidate deserves to be treated with respect and we will made every effort to notify you of a hiring decision. Unsuccessful candidates are notified if they are not moving forward in the process or once the position is filled. If you would like to follow up on the status of your application, please feel free to use the contact information provided in this webpage. You can also monitor your application by going to the "Track My Applications" by logging into your online application account.
Firefighter Recruitment
For more information on Firefighter recruitment, please visit our Fire & Rescue webpage.
Requests for Accommodation
The City of Coquitlam is committed to Equity, Diversity and Inclusion and we celebrate the diversity of our workforce. If you are a person with a disability and require an accommodation in the recruitment process, please contact Human Resources using the contact information provided on this web page for confidential support.